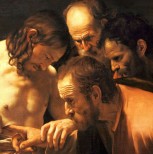 I'm lucky enough to be fin­ishing this month with two con­certs. On 22 March, the Curious Chamber Players will per­form The Incredulity of St Thomas as part of Samtida Musik's Vårflod Festival in Stockholm. The rest of the pro­gramme fea­tures re­cent works by Swedish com­posers and the con­cert is fol­lowed by a re­cital given by Garth Knox.
Listings: Vårflod Festival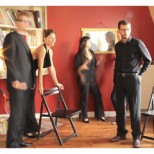 Two days later, soundini­ti­ative will give their second per­form­ance of my most re­cent piece, All that is solid melts into air, at the What's Next Festival in Brussels. The con­cert will also in­clude the second per­form­ance of Joanna Bailie's Artificial Environment Nos. 9a – d and Rebecca Saunders's Molly's Song #3 — shades of crimson, which they played with in­tensity and sub­tlety in February, so don't miss it!
Listings: Ars Musica | soundini­ti­ative