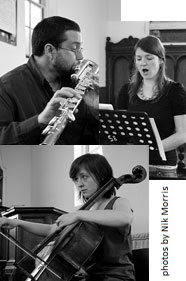 Good friends Trio Atem make their London début on 4 April with a con­cert as part of the in­nov­ative 'Out Hear' series at Kings Place. Gavin Osborn (flute), Nina Whiteman (voice) and Alice Purton (cello) present a pro­gramme of new music by com­posers based in the North West of England along­side the work that first brought them to­gether, Helmut Lachenmann's temA. Also in­cluded in the pro­gramme is a newly re­vised ver­sion of my …going back to the skies, which they first premièred last year. Here is the pro­gramme in full:
Michael Mayhew's work comes from his series of graphic scores, The Alchemy Collection, which first premièred in the au­tumn at the Whitworth Art Gallery in Manchester. Here are some im­ages of 'Vinyl Radical' from the series:
It should be a great con­cert and I'm looking for­ward to it im­mensely, so buy your tickets now!