A Talk About Helmut Lachenmann's Gran Torso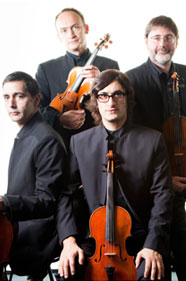 For those of you in Manchester, I am giving a talk with the won­derful Quatuor Danel this Thursday on Lachenmann's first string quartet, Gran Torso. The talk runs from 14:30 to 16:00 at the University of Manchester (map), but is pre­ceded at 13:10 by a free lunch­time con­cert fea­turing Beethoven's String Quartet in F major, Op. 18 No. 1, and the UK première of Pierre Bartholomée's quartet Envol et Mort d'un Papillon. I will cover sound, struc­ture and his­tor­ical con­text as much as pos­sible in the time avail­able, as well as as briefly touching on the two later quar­tets, 'Reigen se­liger Geister' and 'Grido'.
The Danels are per­forming all three Lachenmann quar­tets in the coming months. Gran Torso is Friday night at 19:30 along­side Bartók 3 and Beethoven "Harp". It is an in­cred­ible work, not to be missed.